DayZ Wiki Update Project! — DayZ has undergone a lot of big changes in a short timespan. We need you to help us keep our pages and images up to date! Want to get started? Follow the link or Join the Update Project on Discord!
Train Stations
Train Stations

General
Version
1.04
Locations
Cities
Loot
Tags
Industrial, Village
Types
Loot Count
Low
Structure
Floors
1
Entrances
1 to 3
Train Stations are buildings found along railways, usually inside large cities. There are two variants, Large and Small.
The Small Train Station is a recently updated building that was previously not enterable.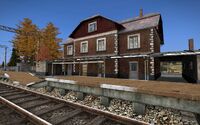 The Large Train Station spawns clothing, equipment other useful Industrial gear.