NBC Respirator
NBC Respirator

General
Category
Clothing > Masks
Inventory Slot
Mask
Size
12 Slots (3x4)
Hotbar Bonus
0 Slot(s)
Weight
700 g
Absorbency
0%
Repairable With
None
Insulation
Medium
Protection

| | Projectile | Melee | Infected |
| --- | --- | --- | --- |
| Health | 0 | 0 | 0 |
| Blood | 0 | 0 | 0 |
| Shock | 0 | 0 | 0 |

Occurrence
Locations
Helicopter Crash Sites
Rarity
Extremely Rare
Variants
N/A
"

Full face gas mask with a side-mounted filter. Used to protect from airborne pollutants and toxic gases. Fits the 'Nuclear, Biological, Chemical' suit.

— In-game description
The NBC Respirator is type of mask in DayZ Standalone. It protects against biological contaminants as part of the NBC suit.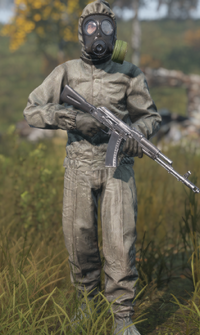 The NBC Respirator is based on the British S10 army gas mask.
The mask is referred to as the Airborne Mask in the game files, likely referring to its real world counterpart's usage by special forces.