DayZ Wiki Update Project! — DayZ has undergone a lot of big changes in a short timespan. We need you to help us keep our pages and images up to date! Want to get started? Follow the link or Join the Update Project on Discord!
Mod:Zub Castle
This page covers the Mod version of DayZ. For information on the Standalone see Zub Castle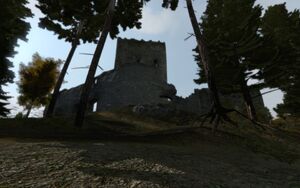 Zub Castle is a small castle ruin a few hundred meters south of Vyshnoye. Zub (rus: зуб) means "tooth" in Russian.
It has two enterable buildings: a three story tower and an archway. Note: a zombie often spawns in the tower's ground floor room.
While the old ruin gives some cover it also attracts a lot of survivors. East of the castle is a usable well and two lootable houses. Overall the risk/reward-level of Castle Zub is superior - especially when you remind the proximity to Mogilevka, too.
Fullscreen in New Window