DayZ Wiki Update Project! — DayZ has undergone a lot of big changes in a short timespan. We need you to help us keep our pages and images up to date! Want to get started? Follow the link or Join the Update Project on Discord!
Mod:Rog Castle
This page covers the Mod version of DayZ. For information on the Standalone see Rog Castle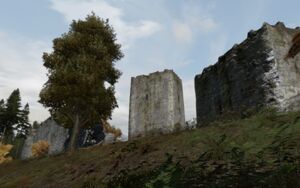 Rog (Rus: Рог, "Horn") Castle is a small castle ruin located on a mountaintop north of the port town, Kamyshovo. It consists of three main buildings: a three story tower; a small stone building on which you can get on the roof and an archway building.
Rog is easily lootable and spawns a small group of Infected
Rog Castle makes a good place to find Supplies when you respawn or are just starting out. It is rarely visited by players due to it's relatively remote location and poor loot spawns.
Rog is the only castle known to have the UH-1H Huey spawn at it.
Fullscreen in New Window