Mod:Infected survivor camps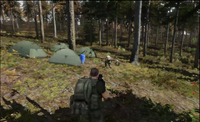 Infected survivor camps are randomly spawned tents typically located in forests and away from towns. They consist of several closely placed tents, with a large number of infected surrounding the area.
The tents carry similar loot to low value residential buildings, however there is a possibility of medical or food boxes being located in the area.
Food boxes contain:
6 x Baked Beans
6 x Sardines
6 x FrankBeans
6 x Pasta
6 x FrankBeans
6 x Pasta
Medical boxes contain:
5 x Bandages
2 x Epinephrine
5 x Morphine
2 x Bloodbag
2 x Painkiller
3 x Antibiotic