Billboards
Completely ubiquitous, the billboards of Chernarus serve to enrich the landscape and add a touch of humor to DayZ Standalone. The following is a list of every billboard you may come across in your travels and a bit of information about each one, including a translation of the text.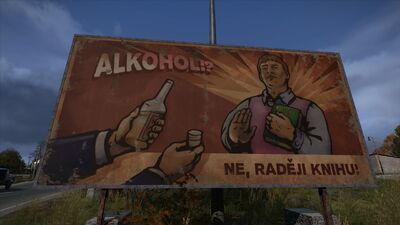 Translation: "Alcohol!? No, I'd rather read this book!"
Czech rendition of Niet meme.
Based on real-life soviet anti-alcohol propaganda (original poster)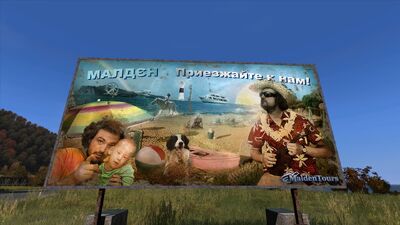 Translation: "MALDEN - Come to us!"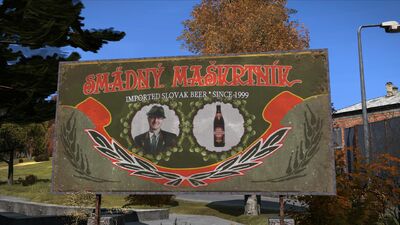 Translation: "Thirsty Sweet Tooth -- IMPORTED SLOVAK BEER * SINCE 1999"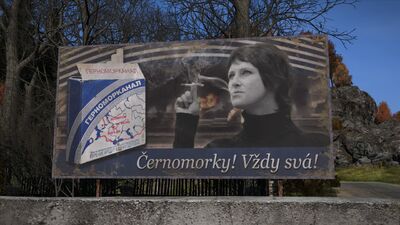 Translation: "Černomorky! Always herself! -- GERNOMORKANAL"
Reference to the Belomorkanal brand of cigarettes.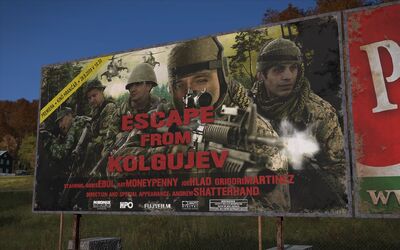 Translation: "Premier - Ranger Cinema - August 8th, 2009 at 6:30 pm"
Mentions fake companies/brands at the bottom including: Miromax (Miramax), HPO (HBO), Fujyfilm (Fujifilm), and Dolpy Digital (Dolby Digital).
Has the following fake cast: Boris Ebul, Ray Moneypenny, Joe Hlad, Grigori Martinez with direction, and a special appearance by Andrew Shatterhand.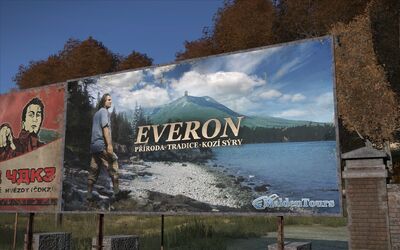 Translation: "NATURE - TRADITION - GOAT CHEESE"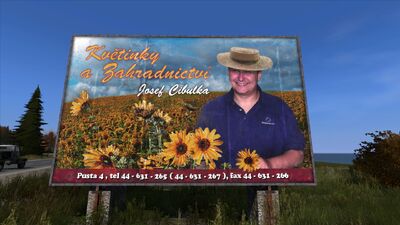 Translation: "Flowers and Gardening Tools"
"Cibulka" means "bulb" (like a plant).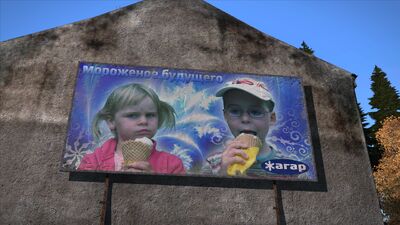 Translation: "Ice Cream of the Future"
This slogan is possibly a play on the same slogan used by American ice cream company Dippin' Dots.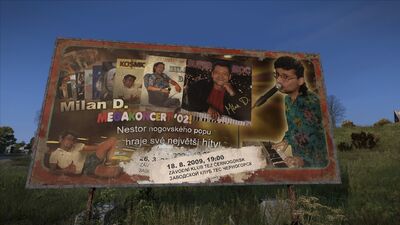 Translation: "Nestor nogovského (?) pop plays his greatest hits! -- August 8th, 2009 at 7:00 pm - RACING CLUB TEZ CHERNOGORSK - FACTORY CLUB TEC CHERNOGORSK"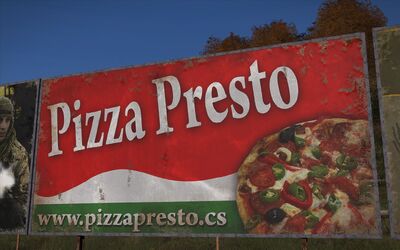 The billboard says "www.pizzapresto.cs" at the bottom, referencing the actual website for an actual restaurant in Mníšek pod Brdy in the Czech Republic (pizzapresto.cz).
The .cs extension is meant to imply Chernarus, but was once used for Czechoslovakia prior to the dissolution of that country.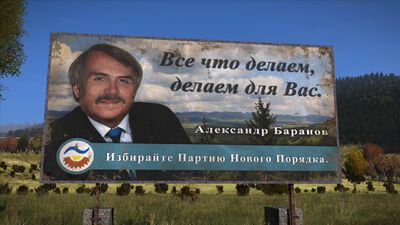 Translation: "Everything we do, we do for you. -- Alexander Baranov -- Party Elects New Order (Elect the New Order Party)"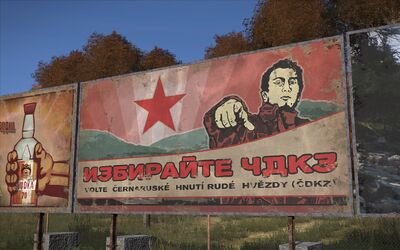 Translation: "ELECT ChDKZ -- VOTE CHERNARUSIAN MOVEMENT OF THE RED STAR (ChDKZ)"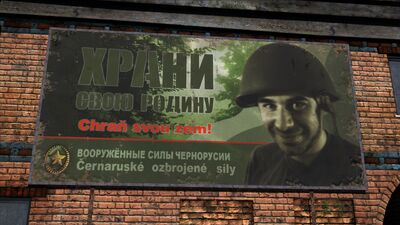 Translation: "Save Your Homeland -- ( Protect your ground! ) -- Armed Forces [of] Chernarus -- ( Chernarussian Defence Forces)"
Translation: "Sahrani - Paradise just a flight away..."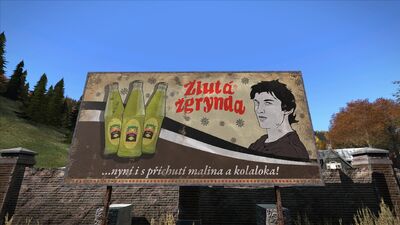 Translation: "Žlutá Žgrynda -- ...now with raspberry and lemonade (?) flavors!"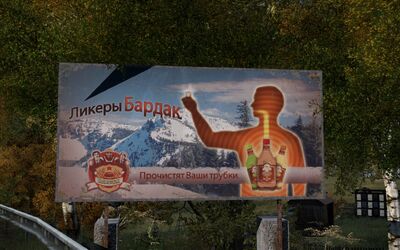 Translation: "Liquor Bardak (?) [FUCKUP Liquor] -- Clean Your Pipes -- (BARDAK (?))"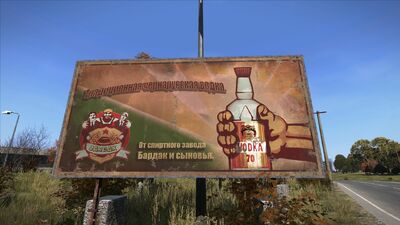 Translation: "Traditional Chernarusskya vodka. -- From alcohol plant - Bardak and sons."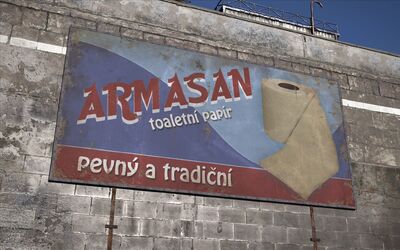 Translation: "ARMASAN -- toilet paper -- solid and traditional"
Based on real-life brand HARMASAN in communist Czechoslovakia, produced by Hermanecké papierně.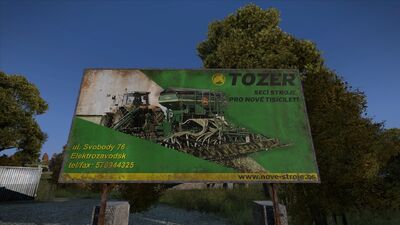 Translation: "TOZER - SEEDER FOR THE NEW MILLENNIUM -- 76 Liberty Street - Elektrozavodsk - tel/fax: 578944325 -- www.nove-stroje.cs"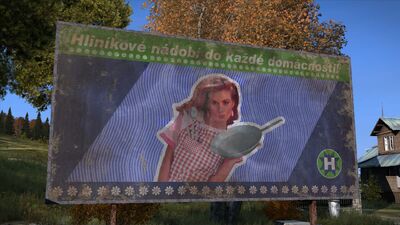 Translation: "Aluminum cookware for every household!"